BIOGRAPHY
Canadian scientist and composer Hugh Le Caine (1914-1977) has been called one of the "heroes" of electronic music. He was brought up in Port Arthur (now Thunder Bay) in northwestern Ontario. At an early age he began building musical instruments and experimenting with electronic devices. In his youth he imagined "beautiful sounds" that he believed could be realized through new electronic inventions.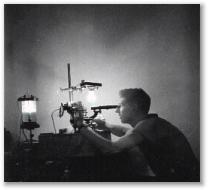 Hugh Le Caine working in the physics laboratory at Queen's University, Kingston, Ontario, in 1938
After earning his Master of Science degree from Queen's University in 1939, Le Caine joined the National Research Council of Canada (NRC) in Ottawa. There he worked on the development of the first radar systems and in atomic physics, distinguishing himself as a scientist and publishing significant papers in those fields.
At home he continued to pursue his interest in electronic music and sound generation. He established a personal studio in 1945, where he began to work independently on the design of electronic musical instruments such as the Electronic Sackbut, a sophisticated monophonic performance instrument now recognized as the first voltage-controlled synthesizer. Le Caine later developed voltage-control systems for a wide variety of applications.
In 1948 Le Caine went to England for four years of graduate studies in physics, but resumed his work in electronic music on his return to Canada. On the strength of his public demonstrations of his instruments, he was permitted to move his musical activities to NRC and to work on them full time in 1954. Over the next twenty years he built over twenty-two different new instruments. He collaborated in the development of two pioneering electronic music studios at the University of Toronto (opened in 1959) and at McGill University in Montreal (opened in 1964).
Le Caine's lab at NRC almost single-handedly equipped these early electronic music studios. The components of the Sackbut were separated into independent units, or modules, so that composers could assign each one to a role in a sequence suited to a specific task. Le Caine taught at both universities, and influenced a generation of composers of electroacoustic music.
His many articles and personal demonstrations catalyzed activity both within Canada and in the international community. He had an indirect influence on the development of the modular Moog Synthesizer through Gustav Ciamaga, who was familiar with Le Caine's filters and subsequently stimulated Robert Moog to design his voltage-controlled low-pass filter.
Perhaps the most important aspect of Le Caine's designs for his instruments was the "playability" that he took care to build into them. His fixation with "beautiful sound" led him repeatedly to design electronic instruments capable of producing a nuance-filled expression typical of the orchestral tradition. He had an acute sense of what performers needed if they were to be able to create the performance gestures that he believed formed the essence of music.
Touch sensitivity was an essential ingredient in this, and was used in keyboards, mixers, and other components, applied mechanically, electronically, and through light sensitivity. Le Caine's designs were so advanced in this respect that some of the features that he developed found their way into commercial designs only in the late 1980s.
Ideally, a musical instrument should offer potent sound resources and manageable control systems. These goals are not always compatible. Realizing the musical potential of traditional instruments usually requires intensive training. With his electronic instruments Le Caine attempted to change this balance in the direction of playability without compromising musical integrity. Each design was a unique study in balance, elegant and beautiful. Throughout his years as a designer, Le Caine composed a number of short pieces and studies which were intended to explore and demonstrate the possibilities of the new instruments.
His 1955 composition "Dripsody," based on the sound of a single drop of water, must still rank as the most-played example of "musique concrete." Regardless of the acclaim they rightfully achieved he continued to express a disparaging attitude towards his compositions: "I did not regard myself as a composer. However, I felt that the only way to understand the composer's interest in the apparatus was to try to use the equipment myself in the various current musical forms."
His self-deprecating sense of humour is evident in some of the titles he chose for his compositions, such as "A Noisome Pestilence." When someone asked why he had called his first composition "Dripsody," he replied: "Because it was written by a drip."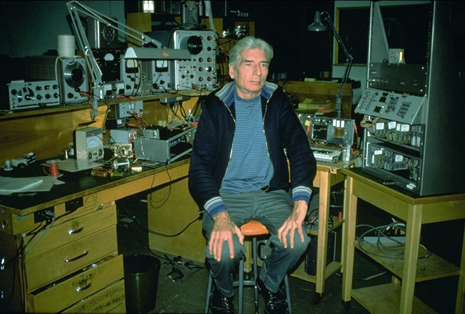 Hugh Le Caine in his lab at the National Research Council in 1974 surrounded by his inventions

In the studies on this CD we see the same imagination and originality that is so evident in the instruments themselves. This recording illustrates the wide range of techniques which Le Caine pioneered, highlighting eight of his instruments. It also shows something of his personality and sense of humour.
Although Le Caine's instruments are discussed individually, they were intended to work together within the context of the electronic music studio, one controlling another, or one feeding sounds to another, in configurations which varies from one application to another.
All of Le Caine's studio instruments could be used in combination with one another in this way. Modular units such as touch-sensitive keys appeared in several instruments and were used for varied purposes. The sheer intelligence and insight of Le Caine's ideas continue to deserve an audience. Consider his comment from 1966 that "What a composer of electronic music needs most is not an understanding of the apparatus, but a new understanding of sound."
Le Caine retired from the National Research Council in 1974 after the failure of the Sackbut manufacturing project.
Le Caine died in July of 1977 as a result of injuries incurred in a tragic motorcycle accident on July 4, 1976.
---
Eccentricities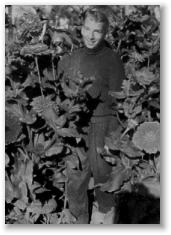 "Colossal Dahlia-flowered Zinnias"
In this photo composition Hugh Le Caine is seen among huge flowers. He had placed a cardboard-backed enlargement of a full-length photograph of himself among the flowers in the roof garden in his home/studio. He then rephotographed the assembly and proudly showed his colleagues the size of his flowers.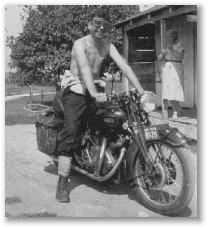 Le Caine and motorcycle in 1948




Le Caine had a passion for driving motorcycles at high speeds on Canadian highways. He impressed his colleagues by setting unofficial speed records between Montreal and Northern Ontario.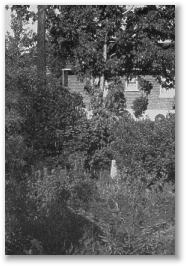 The Le Caine House

The garden behind Le Caine's home supported a dense growth of flowering trees and brushes, with a brick pathway and patio area. There was no lawn either in front or in back of the house.