PUBLICATIONS
The CD!
Hugh Le Caine: Compositions and Demonstrations 1946 to 1974
(JWD 03) includes all the recordings mentioned here, 38 tracks in all. Available in stores, or by mail order from:
The Hugh Le Caine Project,
146 Ridge Road West,
Grimsby, ON,
L3M 4E7, Canada.
Send a cheque or money order for $18. which includes postage. For further information contact ridge146@sympatico.ca.



The Sackbut Blues:
Hugh Le Caine, Pioneer in Electronic Music
by Gayle Young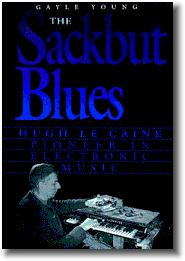 This biography is intended for general readers with an interest in historical Canadian enterprises, both cultural and scientific. It will be of particular interest to musicians and composers who use electronic instruments.
The Sackbut Blues, by Gayle Young, published by the National Museum of Science and Technology in Ottawa (ISBN 0-660-12006-2), is available through the University of Toronto Press in Canada, and the University of Chicago Press in the USA. Issued also in French under the title: "Blues pour saqueboute: Hugh Le Caine, pionnier de la musique électronique." For further information phone +1/613 991-2983. The National Museum of Science and Technology houses an extensive collection of Le Caine's instruments.
The Sackbut Blues: two corrections

On pages 122 and 134, the last line was deleted in the design stage by mistake. They should read:

p. 122: Le Caine was not the person to show the three composers at the University of Toronto studio how to use the Multi-track. He was aware that the limitations...

p. 134: The Two Channel Alternator was used to alternate a sound from channel to channel, an idea that was suggested by Gustav Ciamaga. Le Caine built...

---

… essential and historically significant… documents thoroughly, and at long last, Le Caine's radical and visionary notions of experimental electronic instrument design.

--Larry Polansky, Option Magazine
---

Le Caine was a Canadian original… He was the acknowledged world leader in many areas of electronic music research. Each of his instruments was unique and anticipated developments on the world stage… Le Caine was also a composer of genius. His first electronic work, Dripsody, has been recognized as one of the masterpieces of the genre.
--Larry Lake, Music Magazine
---

… from the vantage point of 1990, it is difficult to cite any Canadian composer of the 1950's and 1960's--electronic or otherwise--whose work is more original or more assured in technique than [Le Caine's]. We must grant that his musical output was small, but each piece is significant because of Le Caine's ability to pose, and to solve, musical problems.

--Lowell Cross, Canadian Association of Music Libraries Newsletter
---

… more than a historical curiosity. It is a fun record to listen to [also providing] a hint of the possibilities others should still examine and pursue.

--Jacob Siskind, Ottawa Citizen
---

The Sackbut Blues is an excellent reference for understanding Le Caine's important work.

--Joel Chadabe, Electronic Music Foundation
---
Hugh Le Caine:
Compositions & Demonstrations
1948-1972
LP (33 1/3 rpm) released 1985 by JWD Music, in cooperation with the Hugh Le Caine Project. Produced by Gayle Young. Sound Engineering by Larry Lake. Jacket design by Reinhard Reitzenstein and Tina Pearson.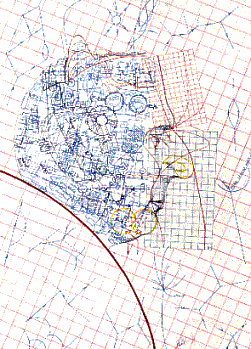 Portrait of Hugh Le Caine by Reinhard Reitzenstein, from cover of LP jacket.
---